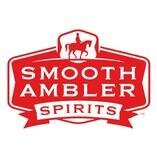 About Smooth Ambler
Smooth Ambler Spirits are based in the remote and mountainous countryside of West Virginia. Established in 2009 by TAG Galyean and John Little, they are driven by the production of quality spirits rather than large quantities making their products limited and rare. Smooth Ambler's distillery operates with a full grain to glass process. They have a keen nose and taste for blending, selecting and bottling remarkable independent releases. Their blend 'Contradiction' is a marriage of one of their younger wheat bourbons with a specially selected older and more mature rye-rich bourbon, producing a full bodied and unique whisky with a smooth fruity and nutty taste.

Key people - John Little
John Little is the Co-Owner and Master Distiller at Smooth Ambler Spirits, having set up Smooth Ambler in 2009 with his father-in-law. John fell in love with the concept of craft distilling after reading an article in Time Magazine and that is when Smooth Ambler was born. His love for West Virginia and it's natural beauty led them to the location to set up the Distillery. 

Key people - John Foster
John Foster is Smooth Ambler's national director of sales and marketing, he ensures that the brand is available up and down the United States. Being John Littles best friend he came on board at the very beginning and originally worked with John Distilling, however, his talent with words soon saw him changing position to sales and marketing.  
745 Industrial Park Rd, Maxwelton, WV 24957, USA