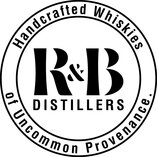 About R and B Distillers
We are proud to host R&B Distillers on Craft Whisky Club. We featured their BORDERS Scotch whisky in our February / March 2016 subscription box, paired with Ginger Spice chocolate from The Chocolate Tree.
The folks at R&B have very ambitious plans, and we will be monitoring their progress on this page as they grow.
With BORDERS, R&B Distillers have made a very interesting small batch composition with their 50% wheat and 50% malted barley, originating from a single distillery. The finish is in Oloroso Sherry casks giving this whisky exceptionally prominent sherry notes. The colour is lightly golden from engaging with the sherry butts.
We are proud to stock this limited edition whisky, which only became available in November 2015.
We met with Alasdair to ask about his vision, ideology and methods for creating what we believe to be a great whisky. Please see the outcome of that meeting in the videos section below.
We wish them all the very best with their whisky making and distillery developments. Check back regularly for updates on their progress.
David
Craft Whisky Club


Introduction
R&B stands for Raasay and Borders, two unique whisky landscapes brought together in one unique whisky company.
It's a meeting that is physically embodied in one of their founders, Alasdair Day.
Alasdair's great-grandfather, Allan Macdonald, hailed from the Hebrides. His other great-grandfather, Richard Day, was a whisky blender in the Border town of Coldstream with a heritage dating back to 1820.
This genetic spark of genius gave birth to R&B Distillers. Discover these handcrafted whiskies of uncommon provenance for yourself.

Key people - Alasdair Day
Alasdair has spent 25 years in the food industry, but his great-grandfather's whisky heritage kept calling him back to a family tradition.
Alasdair has been successfully recreating his great-grandfather's Borders whisky since 2009, adding his own modern twists to time-honoured methods.
The multi-award winning Tweeddale whisky is now an integral part of R&B.
Definitely something to suit drammers with a sweet tooth!
Posted over 7 years ago - by The Whisky Lady
Building distilleries takes time though, so R&B are satisfying their impatience by crafting the styles of whisky representative of what's to come; the aptly named Raasay While We Wait single malt, and Borders single grain. They also continue to promote their heritage brand The Tweeddale.
Nose: Sweet and gourmet with toasted bread, burnt caramel, praline, licorice, buttered brioche and sweet spices like some subtle star anise. The nose also boasts elegant floral hints in the background with orange blossom. The Sherry finish brings an interesting depth to the overall sweetness of this grain whisky with dried fruits and nutty flavours. With a dash of water, it becomes incredibly addictive with sugary notes of melted chocolate-topped marshmallows, meringue and christmas cookies. Definitely something to suit drammers with a sweet tooth!
Palate: Light but still lively and vibrant with its 51.7% ABV. First sampled neat, it shows aromas of dried fruits and toasted walnuts, dates, oak tannins, ginger bread and white pepper. Add a few drops of water and it flows onto the palate with masses of yummy milk chocolate and cereals: a bit like the adult version of your children's breakfast chcolate crispies bowl.
Finish: Warm and spicy with some pleasant roasted almonds topped with brown sugar.
Dried fruit meets sweet nuts and caramel with a lovely lingering finish
Posted over 7 years ago - by our in-house taster David Nicol
Matured in Bourbon casks and finished in Oloroso sherry casks, Borders has been produced to reflect a lowland style.
The sherry casks really come through with hazelnuts, almonds and just enough caramel to make a perfect balance.
There is a warming spice as a result of the daring 51.7% abv. This batch of Borders whisky goes excellently with Cocoa Black dark praline chocolates. Of course all natural colour, and non-chill filtering as you would expect from a great craft whisky.
Registered Office: 23 Manor Place,
Edinburgh, Scotland, EH3 7DX