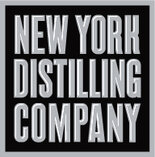 About
The New York Distilling Co are based in Brooklyn, New York. In 2011 on the 5th of December, exactly 78 years after prohibition ended the NY Distilling Co opened, the mission, to bring back distilling to New York, the city that during prohibition had over 50,000 illicit stills and yet never really regained commercial distilling after prohibition. One of the founding goals of the NY Distilling Co was to create craft distilled products purely from New York, Including all grains used for production. Founded by Brooklyn Brewery founder Tom Potter and renowned spirit expert Allen Katz the distillery is driven by absolute passion and determination to craft fine spirits.

Key people - Tom Potter
After graduating Yale Tom was unsure what his career path would be but ended up working as a banker, having a beer with his neighbour Steve Hindy one night the two of them came up with an idea for a brewery, the Brooklyn Brewery was born. In 2008 Tom retired from the brewery and started four years of travelling, travelling that led him to the conclusion that the next step was distilling. In 2011 with the experience he had already gained from being the chairman of the Brooklyn Brewery he set out with his son Bill and spirit expert Allen Katz to start The New York Distilling Company, establishing a return to Distilling in Brooklyn.

Key people - Allen Katz
Having worked in the spirit industry for years with various titles including 'Director of Mixology and Spirits Education', he is the ultimate source of knowledge when it comes to distilling. He regularly lectures on cocktails and spirits as well as their history. Having been branded 'the mysterious Allen Katz' he has had a variety of roles in the world of alcohol and has founded cocktail competitions.
Key people - Bill Potter
Bill is Tom's son, before founding the distillery with his father he had been working the fine dining industry for over a decade gaining vast experience in the wine and spirits trade. He is a member of the American Sommelier Association and has his CSS (Certified Spirits Specialist). Bill's role is one of the most crucial as head distiller as he ensures that quality spirit flows from the New York Distilleries 1,000 L German made Hybrid pot – column still.
New York Distilling Company
79 Richardson St,
Brooklyn,
NY 11211,
USA