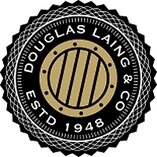 About Douglas Laing & co
Since 1948, Douglas Laing has blazed the trail in whisky production, with a particular eye for artisan, small batch whisky. Now in its third generation of the Laing family, the company strives to challenge perceptions about scotch whisky and take dram-lovers to new areas of taste.

Nowhere is this more apparent than in Douglas Laing's Remarkable regional malts. The company pride themselves on these special creations, with each brand being a true embodiment of a particular Scottish region's unique approach to whisky.  Each bottle from  the range is a 'Vatted Malt' ( also known as a blended malt) -  a delicate blend of several single malts, each of which bringing a particular regional character and complexity to the whisky. As the guys at Douglas Laing put it,"if a single malt is a violin, think of a vatted malt as an entire orchestra"

A favorite of ours is Rock Oyster - Douglas Laing's unique take on the whisky of the Scottish Islands. Though not historically considered its own region, island whisky is distinct in its embodiment of rugged coast and oceanic temperament.  Rock Oyster is a true marriage of maritime malts, which perfectly captures the character of the scottish islands. Be sure to check out the 18yo Rock Oyster, together with the highland-inspired 18yo Timorous Beastie, in our exclusive Secret Still!
David, Craft Whisky Club
Key people - Fred Douglas Laing
Giving his name to the company, Fred Douglas Laing was renowned for his relentless passion for fine whisky. Fred established Douglas Laing and co in 1948 with just a few casks of blended malt whisky, and work tirelessly to grow and develop the company. His blending skills were remarkably largely self taught, and his favoured whisky for blends and vatted malts remain integral to the Douglas Laings current offerings.
Key people - Fred Laing jr
Fred Hamilton Laing continues the family tradition, using his remarkable palate to ensure only the very best blended malts. Having learnt his trade elsewhere - first at Whyte and Mackay, and later White Horse Distillers, Fred has been a part of Douglas Laing and Co since 1972.
Key people - Cara Laing
Continuing the family right-of-passage, Cara Laing followed in her father Fred's footsteps and learnt her whisky trade away from the family business. Having worked at Whyte and Mackay, Jura, and Bowmore Distillers, Cara now uses her expertise to head up Douglas Laings Marketing and Production functions.
Douglas House,
18 Lynedoch Cres
Glasgow
G3 6EQ